by Marta Szczepanik - 15.01.2020
We want to make sure each child has a cosy space and the best memories. Mieszko Polański graduated Industrial Design at Academy of Fine Arts in Łódź. He loves designing products made of wool felt. Katarzyna Surma studied Furniture Design at Academy of Fine Arts in Poznań. She also works as a graphic designer.
As a team they design furniture and every day accessories. They create most of moKee new products. We asked them to share a few secrets of their work.
Is designing for babies different? Because of how vulnerable they are and all the safety standards?
Of course, designing for babies is a lot different. The reason is simple - we cannot try the thing we created ourselves and decide if it's comfortable or if something should be changed. We know how we would feel in different situations, we've had some practice in sitting, sleeping or working at the desk. But we cannot ask babies if the furniture meets their expectations. Even a child that can already speak won't be able to tell us how in a long run, something will affect their posture. Luckily, we don't have to reinvent the wheel - there are anthropometric data, research and standards we always start with. We always pay extra attention to it. At first, it might feel overwhelming - there is so much to check, but as a designer, I consider this an enormous help and blessing - it's a good starting point and road map for any project. The safety standards help you choose the right one from countless ideas.

What inspires you?
That's a hard question & a very popular one! It depends on what we are doing. I can say, in general, that I am inspired by my childhood. I remember many pieces of furniture and some design solutions. They were rarely perfect, but this makes them so interesting to work with. I remind myself of some of them and analyse. I remember all the crazy ideas me and my siblings had and I try to predict what kids may do with the furniture we are creating and how to make sure they will be safe with all those crazy ideas they will surely have, too.
Of course, the world is different today, and when we look at modern parents we can see how much more preservative they are. We also take into consideration what kind of surrounding parents want to give their children. And the need of every parent is also, obviously, our inspiration. We want to make sure each child has a cosy space and the best memories. Can any one of you say you have been swinging on the moon? But our kids will, and this is a nice thought.

You work with wood, natural felt & plywood. How important is the material for the designer and for the consumer? Are those perspectives different?
For sure those are different perspectives. I don't expect the customer to consider how difficult the process of bending the plywood is. But maybe they do? From the designer point of view working with natural materials is the best thing that happened to us. We both hate ubiquitous plastic, and I believe there are more people like us. Working with wood allows us to move towards real craftsmanship with all the good things it brings. Not to mention the smell of joinery!
When it comes to felt, we have a lot of experience with this material and it surely makes our work more effective and helps to find creative solutions. We appreciate the fact that we can work with certified, sustainable materials produced in Europe. It gives us a feeling we are being fair with our customer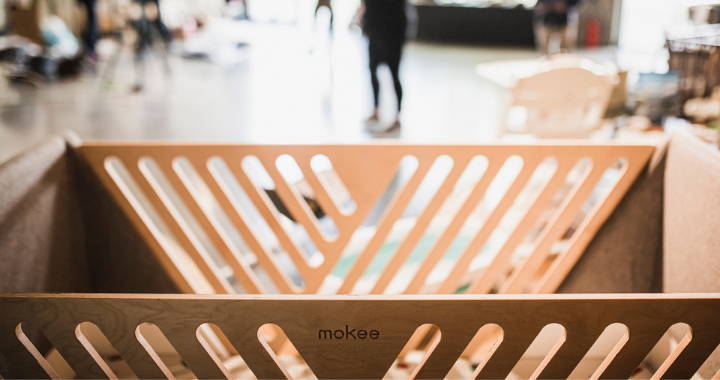 ---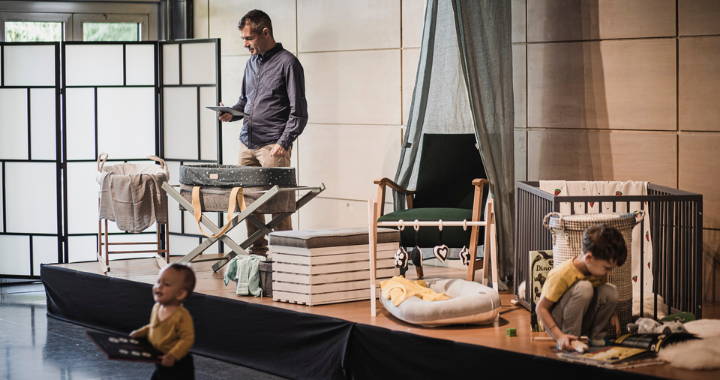 ---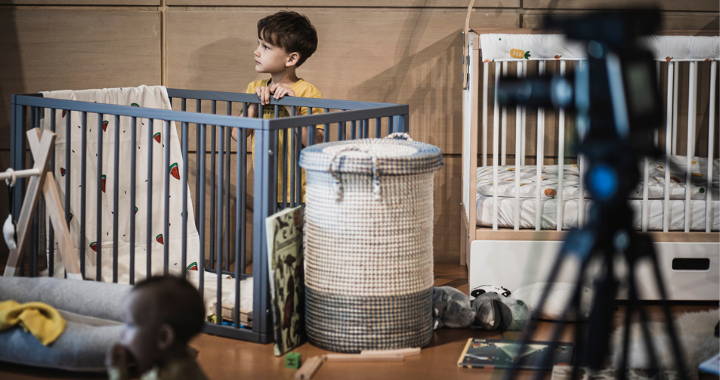 ---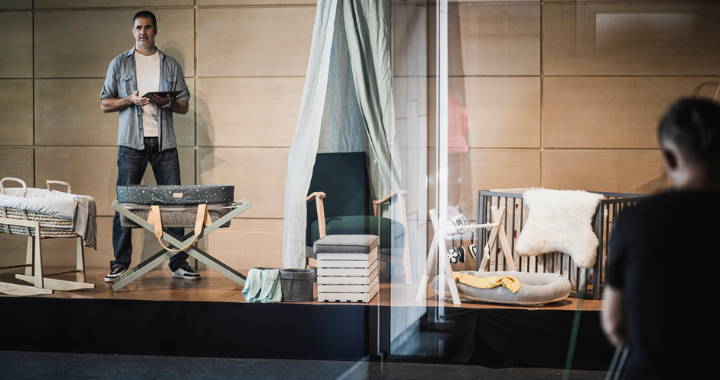 How long it takes to make a new cot bed from nothing. From the second an idea comes to your mind to the moment the final piece is ready to be placed in the baby's room?
There is no simple answer. Each project is different and this is the best and the worst thing in a designer's job. Let's compare two cot beds you've just seen. The first one is wooden with some parts upholstered. The idea came to us one evening and just drawing it was so much fun. We figured out a lot of options for different transformations of the bed. But when the day came, we came to reason, too. We knew we had to eliminate some features in the name of safety. Working on the digital project took us a few weeks. getting the prototype ready took even more time. On the entire project, we spent 3 months of intensive work.
Meanwhile, the second one is a simple metal cot. Here the hardest task was to find a new shape, different from anything on the market, but still minimalistic. I think what made the difference for us was the little detail - how the legs and joined with the upper panel. Creating the digital project took us only 1 day, and the whole thing was done within 2 weeks. Simple as that!
Is designing a team job? How do you work together and how come you are still on speaking terms?
It is, without any doubt, teamwork. This is the best approach. This way we don't face unsolvable problems. If one of us can't find a solution, the other one helps. Sometimes we call the third party to consult. Each design is a result of many people's work. The two of use usually split work and I take the very beginning and the end - the fist and the final drawings. Mieszko deals with the production and all project discussions in the middle (the harder part, then).
I think that the reason this works so well is that we have a common taste and common goals. Also, we are both reasonable and we answer to argumentation. We don't argue and we do not force our own crazy visions. Very often the conflict is resolved by safety standards, client or accountant. But the last-mentioned usually spoils all the fun.
What are you most proud of?
When it comes to nonmaterial things - I think it's what Kasia just said - the way we cooperate. We spent a lot of time together and this requires withdrawing extreme emotions when things don't go according to the plan. We motivate & inspire each other. We are a couple of workaholics, who love their job.
If you are asking about physical stuff, then I think at the moment we are most proud of the new Upholstered Cot Bed - so-called transformers among the cot beds. It was the most complex project, where compromising the standards & vision was extremely hard. It took hours in the workshop. I believe the result is unique and worth all those awake nights.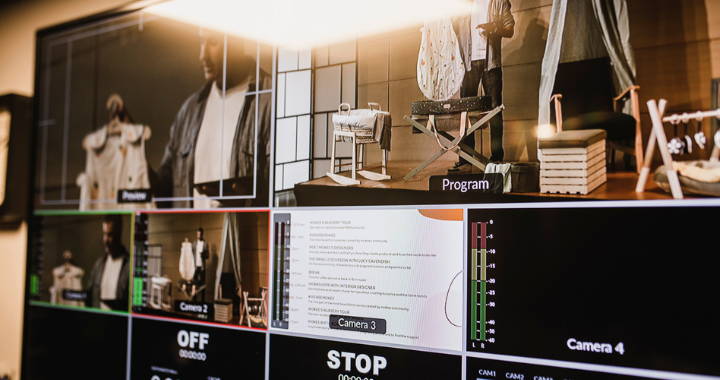 ---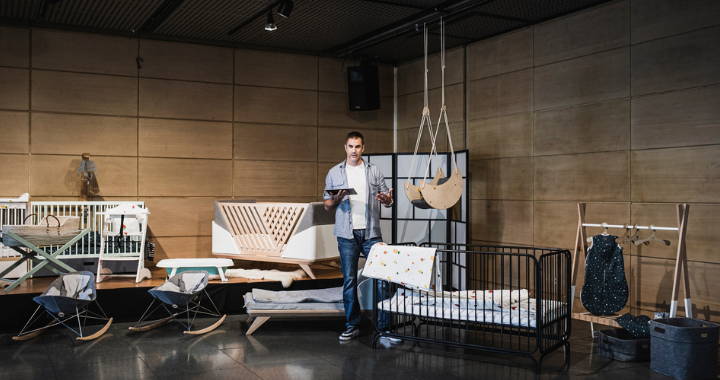 ---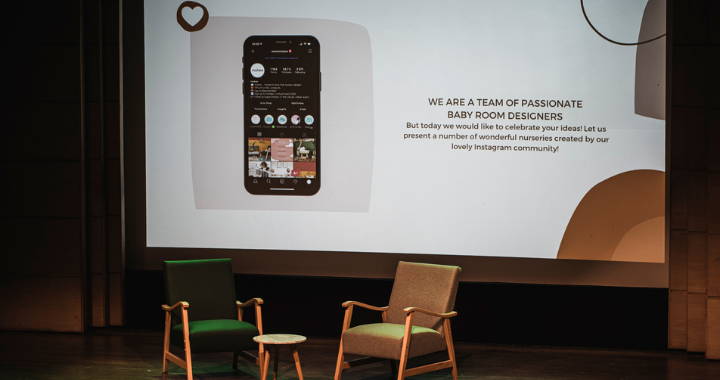 ---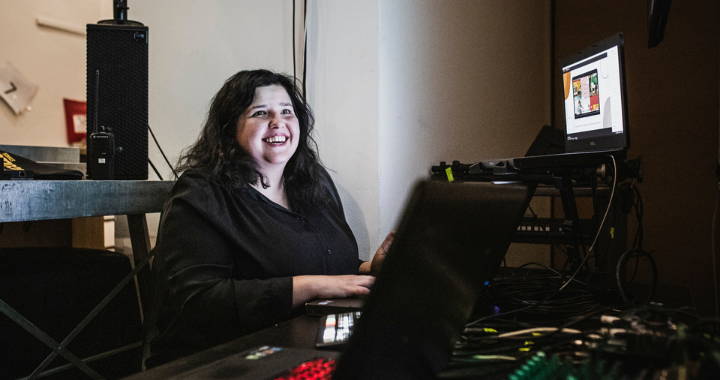 What are you working on right now?
The WoolChairs we are sitting on right now are going to have a younger brother and this is the thing that I have on my mind right now. We are also doing final designs for yet another bed - matching the Tipi Clothes Hanger. There are quite a few beds like that on the market, but ours will take into consideration a lot of functions and needs that are usually omitted. And there are new textile patterns. Quite a lot on our plate.
And your latest creations? Please tell us some more about the moKee news we've just seen.
We've said quite a lot about the new cot beds. You also had a chance to see a Baby Bouncer - Little Lullay. We tested it a lot, as we not only wanted to create a rocking item but to make sure the felt has a correct shape to sort of tuck the baby in. The other thing is a baby swing in a moon shape. It's safe, it's fun but it's also an amazing designers' item. The last thing worth mentioning from our novelties is Tipi Clothes Hanger, perfect for any Indian chief.
Do you test your designs on the way and how would you accept the fact that you need to start over, as it's just not working the way it supposed? Are you the "it is working for me" type of people? Or do you go ahead and, crying a little, you tear the project and start a new one?
Of course, we are testing all the way. we need to be prepared for the toughest type of customer - children. If something needs to be started from scratch once again, there is no time for crying or holding to the past. we move on with new ideas. It's refreshing, and sometimes you can go back to the old idea with a new point of view but without unnecessary pressure. It's not me, who I am designing for, so it wouldn't make sense to think " it works for me". with that kind of approach I wouldn't get any joy and satisfaction at this job.
---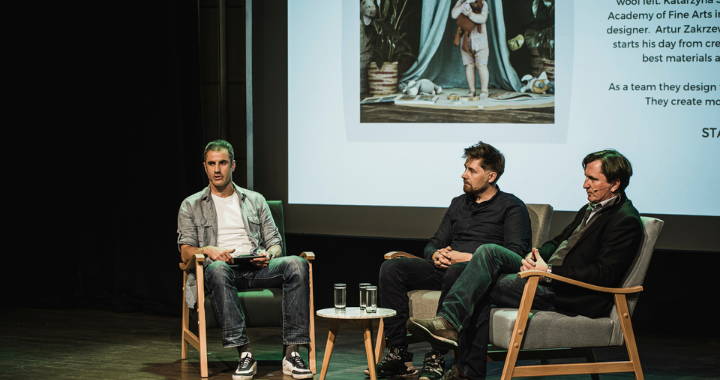 ---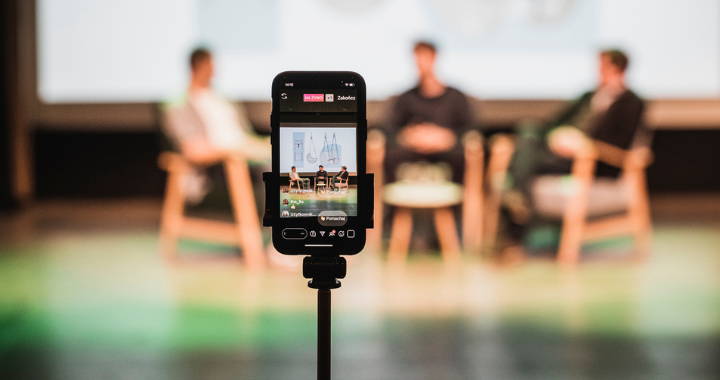 ---
---
How do you stay creative and innovative? How to follow the trends and not to copy the existing solutions?
Watching the market closely is the most important thing to see what your competition is doing and to be a step ahead of them. To stay innovative I keep an eye on other industries to see the general trends, so I can anticipate what will be desired and needed by kids and their parents. Different designing industries are constantly interfusing. The important thing in being innovative is looking closely around you because if you are watchful you can find amazing solutions.
Any big plans for the next months?
We have some big plans, especially for older kids. Expect the transformable Upholstered bed for older siblings, which is fully adjustable to your needs.