What colour to choose for a child's room? Check our colours jigsaw puzzle.


Choosing colours for a child's room, when a baby is about to appear in the world, is often a problem for future parents. Most of them struggle with choosing the colour of a baby cot. This is where we come to the rescue. Our colour palette makes the decision much easier.
Did you know that humans can distinguish between 10 million colours all based on the primary colours red, yellow and blue? These combinations create an unusual colour palette that accompanies us every day. Colours that surround us add variety to our everyday life. These are both delight and positive emotions as well as negative feelings that we would like to avoid. That is why the right choice is so important. Especially if we are talking about a baby's corner. In its colour palette moKee offers as many as eight colours of Mini baby cots. So which one will be perfect for your interior?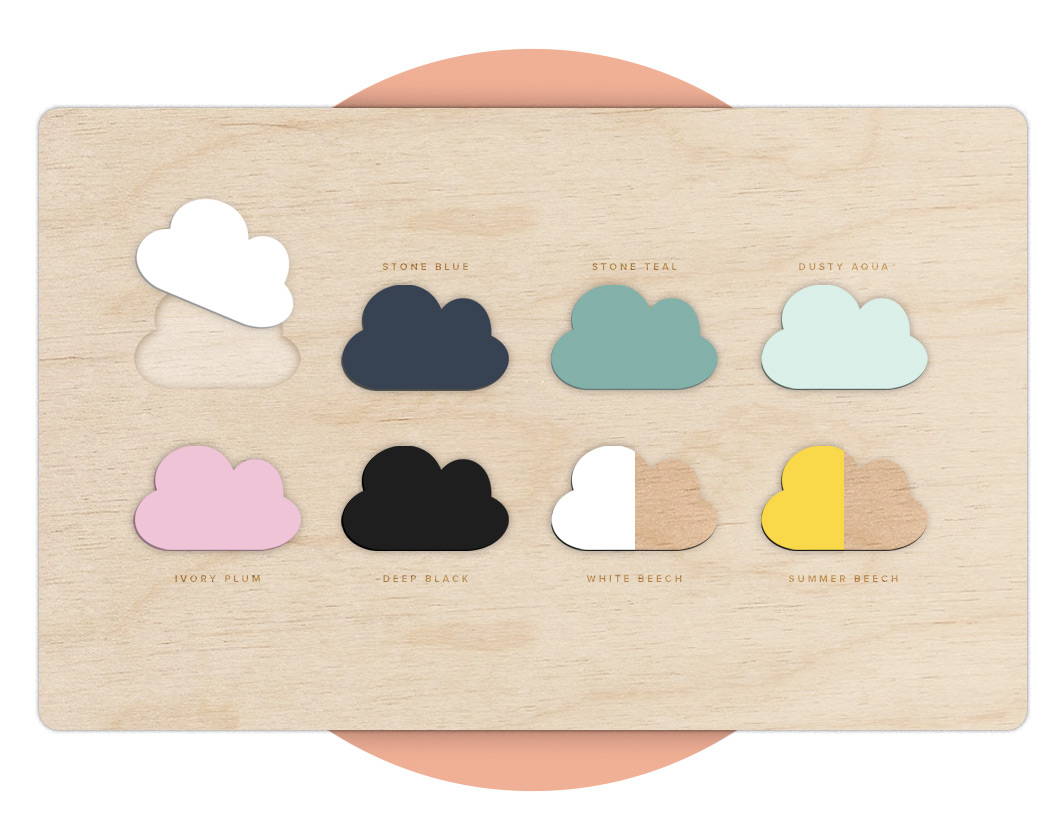 ---
---
WHITE
White will work in a small interior and make the room appear larger. It will reflect daylight and warm up the baby's corner. White is a classic that will perfectly match a classic interior, but it will also resonate against the background of intense wall colours or beautiful children's wallpapers. It will also add a lot of cosiness and peace.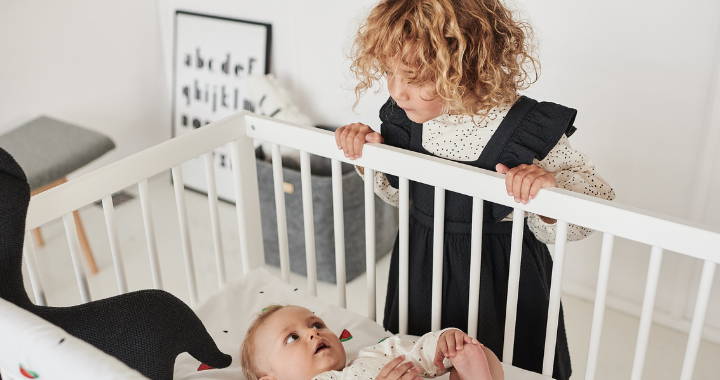 WHITE BEECH
White and wood are the perfect combination for people looking for modern furniture for modern interiors, often inspired by the Scandinavian style. The classic combination of white and wood will visually enlarge a child's room, and a cot in this colour will better suit other light wood furniture and accessories in the room.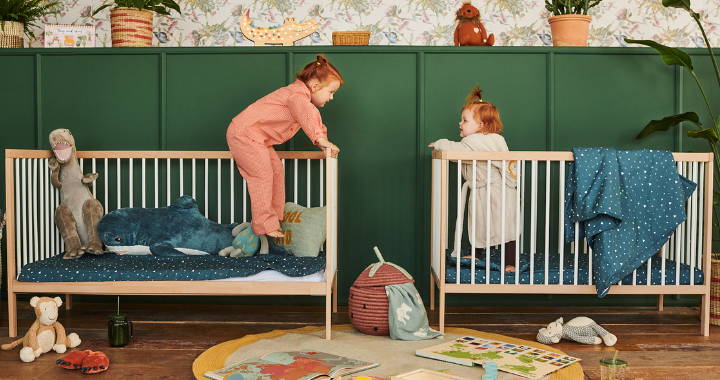 STONE BLUE
A bold colour more and more chosen by parents for their child's room. Stone blue has a calming and toning effect. It also stands out beautifully against the background of colourful walls and in the company of other colourful accessories in a child's room. A classic, more and more often chosen by interior designers, leaving the field clear for creating the perfect interior for the youngest.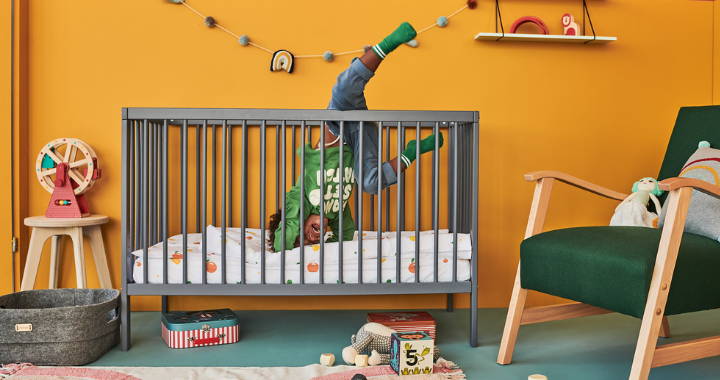 IVORY PLUM
Ivory Plum is a bold, but also extremely delicate colour. Pink calms you down, has a soothing effect and, most importantly, makes you feel positive! From the very moment of looking at our Ivory Plum baby cot, we feel joy and a desire to arrange beautiful child's interiors. Ivory Plum means a glamour style! It is a fashionable choice and an even more fashionable, stylish accent in a child's room. It appeals to us completely!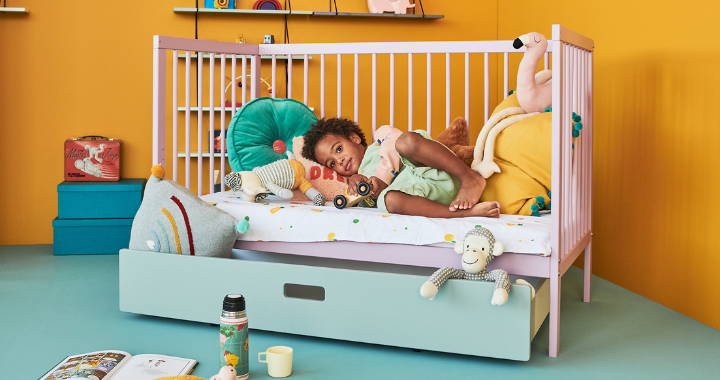 SUMMER BEECH
The calming and soothing combination of yellow and wood is a proposal for those parents who want to create a warm and cheerful corner for their baby. This is a combination that will certainly improve the mood of the whole family and make the stay and development of your child in the room with such a nice accent, full of positive energy.
STONE TEAL
The colour of stone, despite its name, is not a difficult colour to use in a child's room. Its uniqueness and beauty has a calming and soothing effect. It is a proposal for people who love natural accents and for those who like to be close to nature. Stone teal, a colour associated with peace and relaxation, is a good and original choice that will perfectly match your baby's corner. It will make it an exceptionally cosy place.
DUSTY AQUA
If you are looking for a colour that is associated with optimism and good humour, dusty aqua will be the perfect choice. The mint cot will enliven the interior and add character to it. Our bright and beautiful mint goes perfectly with bright accessories. It will also be a great starting point to develop the space further with pastels playing the main role. Well thought-out mint in a baby's corner guarantees modernity in an interior arranged by parents.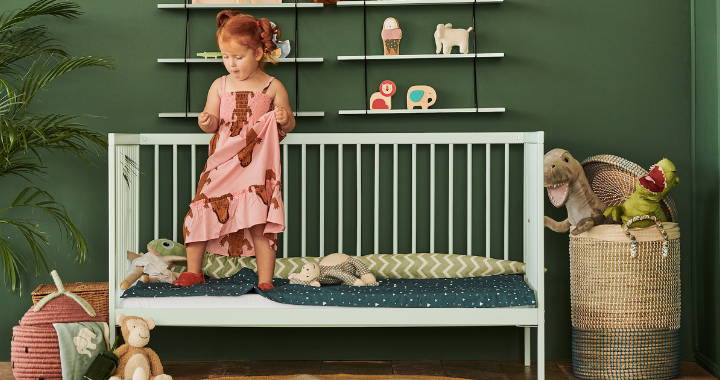 DEEP BLACK
The trend for monochrome interiors is in bloom! And we like it. We also disenchant black and use it to create our baby cot. We know that it will give character to a baby's corner, make it cosy and make you forget about boredom for a long time. We are enthusiasts of the combination of black with white walls and delicate accessories. This combination will give character to your interior and make it appear larger. Black will be perfect for it.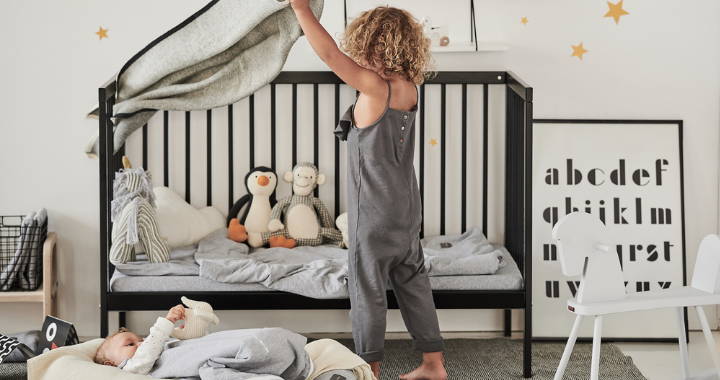 Deciding and choosing the perfect colour for your baby's cot is not easy. We come to your aid! Order the colour palette and find your dream colour, thanks to which you will create a dream room for your baby.