by Madlena Szeliga • madlena@mokee.eu
Madlena & Hirek birth story
28-week preemie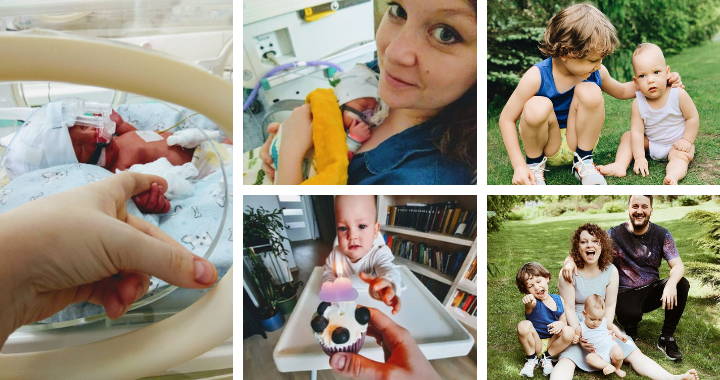 When the birth started I was scared as hell and somehow relieved this pregnancy was over. I was at my 28th week, not really the time for the baby to come. We were not sure if he will survive and if he does, what would be his condition. But this pregnancy was never good or happy or calm, and I had been in bed for 3 months already, including 1 month in the hospital with doctors saying they don't really know what is going to happen and how to help me.
It was an emergency c-section. I didn't know what to expect. My first birth was a perfect, fairy-tale natural one. Exactly on my due date, with the pain that I could stand, family around and lots of laughter.
Now I was alone, my partner rushed into the hospital the minute they took me to the operating room. I didn't let them take my phone away. I didn't want to lose my only connection with the safe world outside. They let me keep it under my head. I guess this is against all the procedures. I don't think I was an easy patient.
I didn't know how small he would be and how would he look. I was afraid to look. Just like when you have a wound and you don't want to see how bad it is, even though sometimes it's not that bad at all.
He cried. I was so relieved and I saw the doctors were relieved, too. They said: "This is your son" and suddenly he was a person, not a mystery anymore. They let me kiss him just once. I got to see him for 2 seconds. He was beautiful and perfect. He stopped crying when his forehead touched my cheek. That was our first and only hug for a few weeks before I was able to hold him again.
He was 2.6 Ibs and we soon realised he was quite big in comparison to his friends at Neonatal Intensive Care Unit. He was strong and healthy. He only needed help with breathing for a few weeks - but also, he was not intubated, CPAP was enough.
The sounds at NICU are scarry. It's constant beeping. It takes a while before you know which sound should alarm you.
Luckily, we didn't have any further complications. He was growing fast. Now it seems so obvious he was ok, but back then every day at noon we were entering the hospital to find out what happened through the night. You never knew.
Once, on Monday it was, I got there and he was not where he used to be. The incubator was empty. I panicked. The midwives already knew me well and they got to me immediately and said: "It's good news! He was transferred to a normal crib".
That was the happiest day of my life.
He spent 10 weeks and 1 day at the hospital.
He is a year old, just starting to walk. He is healthy and happy, and smart, and curious, and the bond we have is as strong as with my first son, whom I was able to hold and cuddle for hours, days and weeks after birth. "Mama" was his first word.
We are still experiencing all sorts of emotions, but we couldn't be prouder of him.