MOKEE HOW TO…..
INTERIOR TIPS FOR CREATING A NURSERY
by Suzi Smith • tlc@mokee.eu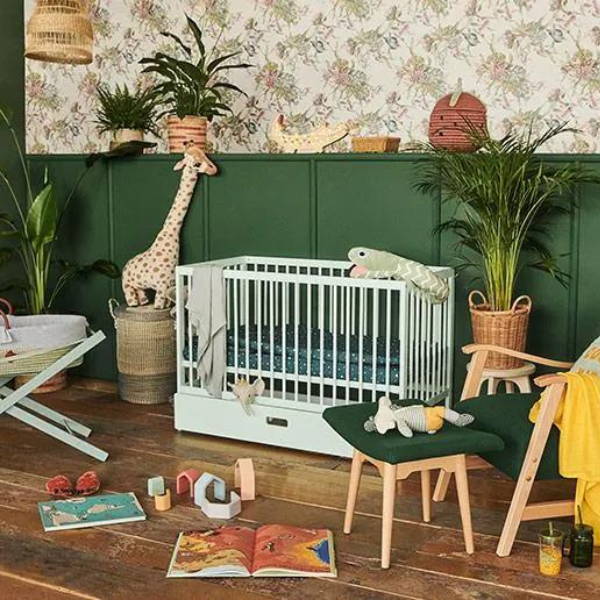 Whether you're a dab-hand at DIY, have a passion for all things interiors, or dread the idea of decorating, Mokee's interior tips to creating a nursery will help you tackle the all-important baby room.
Be practical and realistic-

you should set expectations in line with your budget. Budgets will only get you so far, so make the most of what you're able to give financially towards the room by looking at buying

second hand

, scouring car boot sales for old furniture that you can upcycle as well as asking friends and family for any furniture/toys/paint that they have going unwanted- if you don't ask you don't get!
Create your own mood board- make sure that all the furniture, accessories and colours work together by creating a mood board. Whether it's a digital mood board on

Pinterest

or literally printing out pictures and pinning them on a board, having it all in one place will help you really visualise what the nursery will look like and what tweaks need to be made.
Choose key pieces first

- decide on the big furniture pieces first and then work your colours and scheme around them. Mokee's range of

Cot Beds

come in a vast array of colours, so once you're fixed on the colour, look at tones that complement the cot and then stick to that colour palette.
Choose soft, tranquil colours

- Mokee's cool colours have been chosen because they specifically help to create a tranquil space for baby. Soft colours will help soothe your baby. Choose earthy colours, light greys, creamy whites and soft pastels over harsher colours.
Think textiles

– Mokee has a fantastic range of

textiles

to suit lots of nursery themes. Textiles are a great way to soften a room; think beautiful soft blankets on chairs and sofas as well as rugs to help make the room feel as comfortable as possible for you and your baby.
Think safety

– ensure that all furniture, toys and accessories are safe for your baby but also remember to think about when they can crawl and walk. Will the items you've chosen for the nursery still be safe for wandering hands and fingers to touch and pull? If you choose heavy furniture in a room, such as a large wardrobe or chest of drawers, it's a good idea to have it secured to the wall, just in case your toddler tries to climb it for example.