Fun Christmas activities for you and your baby!
When it's cold and (hopefully) snowy outside at this time of year, it gives you a great excuse to stay inside and make the most of your home at Christmas. And there are tonnes of activities you can do with your baby to celebrate the festive season!
BAKING WITH BABY
Baking is a great way to get messy and to introduce different textures to your baby. Making gingerbread biscuits at Christmas is festive and they can also double up as decorations! I'm a fan of this very simple recipe here.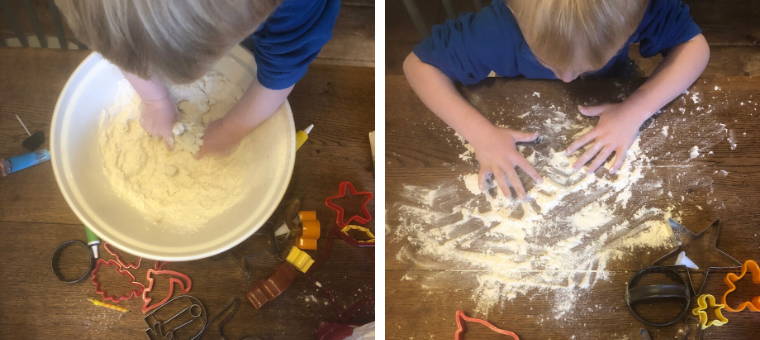 My sons (4 and 1) had fun making the dough, which included getting rather messy and the best part is that if you have a baby who puts everything in their mouth – it's edible, but best wait until they've been baked! My son can't go near playdough as he's prone to putting everything in his mouth but with the gingerbread dough it didn't matter!
It's great to give babies different textures – it's a vital part of them understanding the world around them. Giving them a chance to make a mess is also really fun too. Decorating the gingerbread also helps build their fine motor skills. My 4 year old particularly loved writing his name in the flour on the table and decorating was the most fun. Some icing sugar and sprinkles and starts are all that's needed to create festive gingerbread biscuits. We used cookie cutters such as stars, holly and gingerbread men but we also had a few dinosaurs in there (my 4 year old is obsessed!).
Once out of the oven we let them cool, decorated and placed them on the Christmas Tree – we balanced them in the branches but you can also make tiny holes and hang them off ribbon or string. My son loved choosing one each day to eat- so maybe bake a few otherwise you might end up with a rather bare tree!
PAINTING BABY'S FEET
Nothing is more cute than tiny baby feet and they also make for beautiful decorations! It's fun and gets your baby's senses going too – you can find out how ticklish they are! Get some baby-safe paint (I like to use red or green at Christmas) and gently brush the bottom of your baby's foot. Next, gently stamp your baby's foot onto a piece of paper or cardboard. Remember to clean your baby's foot thoroughly! Let it dry and thread a ribbon through it and hang it on your tree. A decoration that can be kept forever!
ECO-FRIENDLY WRAPPING PAPER, MADE BY BABY!
Here at moKee we are ever aware of the need to cut down on waste and use sustainable materials and Christmas can be a time with a lot of waste. One way you can cut down on waste is by using wrapping paper that can be recycled. Unfortunately wrapping paper with sparkles or patterns on can usually not be recycled but plain brown paper can and you can make it Christmassy with the help of your baby!
Painting their hands and feet and stamping on the paper means you are creating eco friendly paper and family and friends will love the personal touch too. Your baby will enjoy the messy play too.
Show us your baby's creation on Instagram and tag us @wearemokee!
Merry Christmas! x